DONGSHANG Stainless is a supplier specializing in ASTM A213 304 304L Stainless Steel Seamless Tube since 2006, stainless steel 304 / 304L grade, in addition, 316 / 316L, 321, 317 / 317L, 347 / 347H grade can be offered upon request, heat treatment and pickling are important stage in producing process, seamless tube manufacturing should comply ASTM A213 specification, and analysis products as per testing and inspection certificate.
ASTM A213 / ASME SA213 is a America specification for stainless steel boiler, super heater, heat exchanger tubes, executed by most world stainless steel seamless tubes mills and factories, minimum wall thickness required in A213 seamless tube, or average wall thickness as customers requirement, tight tolerance of outside and inside diameter stated as A213 standard or A1016, and complying with seamless tube producing quality system.
A213 Permissible Variations in outside diameter, inside diameter and Length
OD, mm
W.T.
mm
L, mm
≤25.4
±0.10
+20%, 0%
OD<50.8,+3mm,

25.4~38.1
±0.15
OD>50, T>5.6, AVG wall +/-10%
38.1~50.8
±0.2
50.8~63.5
±0.25
OD>=50.8, +5mm
63.5~76.2
±0.3
Also requied
76.2~101.6
±0.38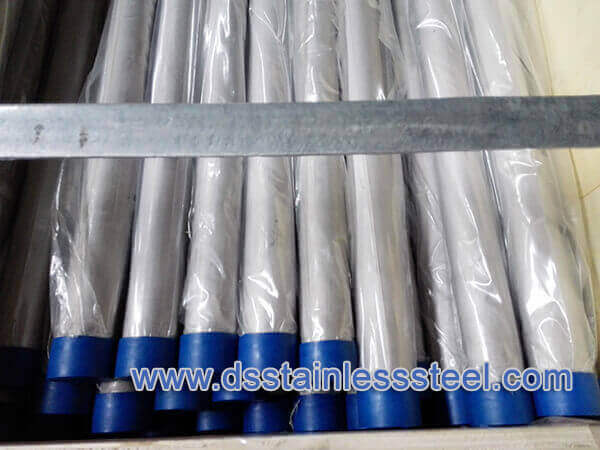 304, 304L
OD: 1/8″ – 5″
Wth: 0.015″ – 0.500″
Length: fixed and random length
Finished condition: annealing pickling, bright annealing
Minimum wall thickness
Application: boiler, heat Exchanger, super heater
End: plain ends, beveled ends/li>
Equipment and testing
Manufacturing equipment
6 sets of cold rolling machines
10 sets of cold drawn machines
Annealing furnace
Tube cutting machines
Straightening machine
Pickling bath
Testing device
PMI tester
Universal test machine
Eddy current test machine
Hydrostatic test machine
Ultrasonic test machine
Corrosion testing device
Rockwell hardness
Quality control
Dongshang Stainless produce stainless steel seamless tube complying with quality system, record each stage, ensure every process is correct that following A213 specification, all the tests should be done according to standard and requirement, mill test certificate (MTC) will be offered as EN10204 – 3.1 type.
ASTM A213 304 304L Stainless Steel Seamless Tube features and applications
A213 seamless tubes has high strength and excellent corrosion resistance via heat treatment, after passivation, tube surface has a layer of oxidation film to protect base metal, used in Heat Exchanger tube, boiler tube, super heater tube, stainless steel U bending tube is often required for Heat exchanger system, 304/304L is common stainless stel grade, 316/316L, 317/317L 904L, S31803/2205 are available.