Stainless steel coiled tube is generally used for boiler, heat exchanger, condenser, cooler, evaporator, beverage cooling, bear cooling, A249, A269 for welded tube, A213, A269 for seamless tube, 304 / 304L, 316 / 316L and duplex stainless steel grades.
Stainless steel tube is designed in coiling form, general small diameter, maximum tube length can be 1000 meters, without any joint metal, minimum outside diameter is 1/8 inch, custom OD have 3/8 inch, 3/4 inch, 1 inch, minimum wall thickness is 0.02 inch, to 0.065 inch.
Basic specification
Grades:

TP304 / 304L, TP316 / TP316L, TP321 / TP321H, 2205 / S31803, TP310S

Surface:

Annealing, bright annealing, polishing

Outside diameter:

1/8″, 3/8″, 1/2″, 5/8″, 3/4″, 1″

Thickness:

0.02″, 0.028″, 0.035″, 0.049″, 0.065″

Tolerance:

+/-0.08 mm

Application:

Heat exchanger, boiler, condenser, air condition
Bright annealing and Polished coiled tubes
DONGSHANG offer welded and seamless tube in coiling shape, cold dawn should be carried out, if required, precise drawn process is available, to obtain smooth surface, tubes can be processed bright annealed and polishing finish,
Coiled Tube standards
ASTM A213
ASME SA213
Specification for Seamless Ferric and Austenitic Alloy Steel Boiler, Superheater, and Heat Exchanger Tubes
ASTM A249
ASME SA249
Standard Specification for Welded Austenitic SteelBoiler, Superheater, Heat Exchanger, and Condenser Tubes
ASTM A268
ASME SA268
Standard Specification for Seamless and Welded Ferritic and Martensitic Stainless Steel Tubing for General Service
ASTM A269
Specification for Seamless and Welded Austenitic Stainless Steel Tubing for General Service
ASTM A789
ASME SA789
Seamless and Welded Ferritic/Austenitic Stainless Steel Tubing for General Service
Common sizes of stainless steel coiled tube in mm
OD mm
WTH mm
3.0-4.0
4.01-6.00
6.01-8.00
8.01-10.0
10.01-12.7
12.71-19.05
19.05-25.4
0.30-0.40
0.41-0.50
0.51-0.60
0.61-0.70
0.71-1.00
1.01-1.20
1.21-1.50
1.51-2.0
features coiled tube
Stainless steel coiled tube have excellent high temperature resistance and corrosion resistance, compared to cooper tube, stainless tube thickness can be reduced 30% – 60%, not too thin and too thick, it is not rust and sanitary, reducing maintenance time, saving cost, easy to install and change.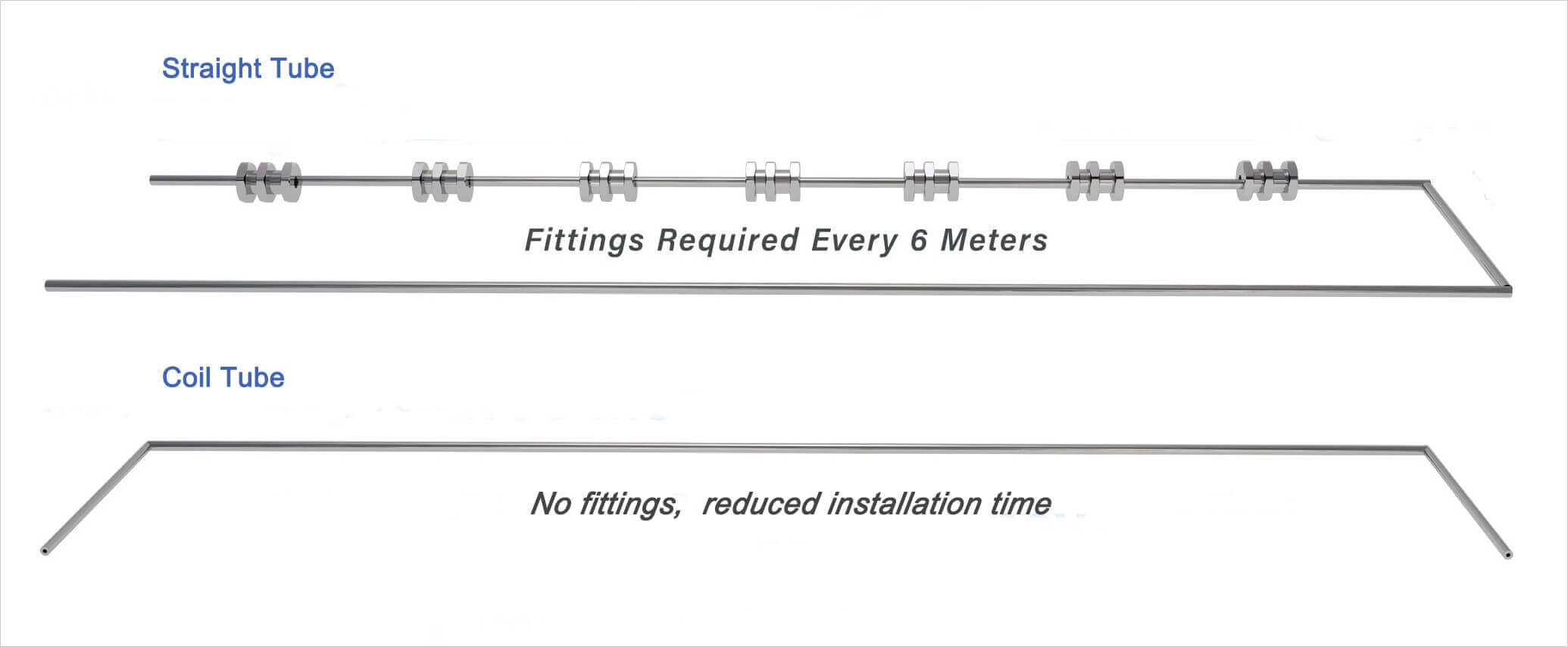 Applications
Stainless steel tube coiling is used in industrial purpose, fluid system and mechanical structure.
Heat exchangers, boilers
Petroleum, chemicals
Fertilizers
Chemical fiber
Pharmaceuticals
Nuclear power
Beverages
Beer
Milk
Water systems
Medical equipment
Printing, dyeing, textile machinery
Automobile and marine accessories