Stainless steel U bending tube is widely used for high temperature or low temperature system, especially in heat exchanger and boiler, standards include ASTM A688, A803, and 304 / 304L, 316 / 316L, 321, S31803, 2205 grades.
U bend tubes for heat exchangers applied mostly in Oil & Gas plants, Chemical & Petrochemical plants, Refineries, Power plants, Renewable energy plants.
Basic specification
Straight:

max 30000 mm

Radius:

max 1500 mm

Heat treatment:

100%

Leg length:

max 12000 mm

Manufacturer

welded and seamless

Specification:

A688, A803

Grades:

TP304 TP304L, TP316 / TP316L, TP321, S31803

Surface:

annealing pickling, bright annealing

Application:

heat exchanger
Quality Control
We produce U bending tube complying with main specifications ASTM A688, A803, also A213, A249, A789, A790, strictly inspect from material to final product, making U bending tubes 100% high quality.
ASTM A688 / A688M
Seamless and Welded Austenitic Stainless Steel Feedwater Heater Tubes
ASTM A803 / A803M
Seamless and Welded Ferritic Stainless Steel Feedwater Heater Tubes
Tolerances should be controlled conform to ASTM A688, A803 standard, Special tolerances are available upon customer requirements.
Heat treatment after U bend (cold finished), heat treatment of bending portion may be required to lower the risidual stress, annealing temperature is controlled through in line furnace or off line furnace.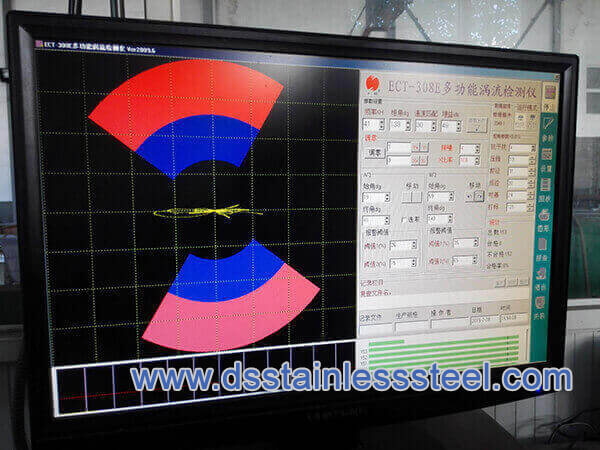 U bend tubes should be fabricated as standard in high quality, controling ovalization and thickness of bending portion accurately, and straightness of leg length, squareness and cleanliness of tube ends should be cut.
Dimension certificate
Flaring and flattening
Hydrostatic test
U.T test
Air Underwater Test
Stainless steel U bend tube are used in heat exchanger systems, as boiler tube, condensers, exhaustion tube and other systems, it transfers heat from a hot to a cold side through the tube. This is made possible through the width of the tubes on each end, poor tube material can result in problems
Dimension of Stainless Steel U Bending Tube
| OD/WT (mm) | 0.5 | 0.6 | 0.7 | 0.8 | 0.9 | 1.0 | 1.2 | 1.5 | 1.65 | 2.0 | 2.11 | 2.5 | 3.0 |
| --- | --- | --- | --- | --- | --- | --- | --- | --- | --- | --- | --- | --- | --- |
| 12.7 | Y | Y | Y | Y | Y | Y | Y | | | | | | |
| 14 | Y | Y | Y | Y | Y | Y | Y | Y | Y | | | | |
| 15 | Y | Y | Y | Y | Y | Y | Y | Y | Y | | | | |
| 16 | Y | Y | Y | Y | Y | Y | Y | Y | Y | | | | |
| 19.1 | Y | Y | Y | Y | Y | Y | Y | Y | Y | Y | Y | | |
| 20 | Y | Y | Y | Y | Y | Y | Y | Y | Y | Y | Y | | |
| 22 | Y | Y | Y | Y | Y | Y | Y | Y | Y | Y | Y | | |
| 23 | Y | Y | Y | Y | Y | Y | Y | Y | Y | Y | Y | | |
| 25.4 | Y | Y | Y | Y | Y | Y | Y | Y | Y | Y | Y | Y | |
| 28 | Y | Y | Y | Y | Y | Y | Y | Y | Y | Y | Y | Y | |
| 30 | Y | Y | Y | Y | Y | Y | Y | Y | Y | Y | Y | Y | |
| 31.8 | | Y | Y | Y | Y | Y | Y | Y | Y | Y | Y | Y | Y |
| 34 | | Y | Y | Y | Y | Y | Y | Y | Y | Y | Y | Y | Y |
| 35 | | | Y | Y | Y | Y | Y | Y | Y | Y | Y | Y | Y |
| 38.1 | | | Y | Y | Y | Y | Y | Y | Y | Y | Y | Y | Y |