DONGSHANG Stainless offer A688 & A803 seamless and welded U bend stainless steel tube for feedwater heater, Austenitic stainless steel and Ferritic stainless steels, surface condition in annealing and pickling, or bright annealing finishing, used in heat exchanger, boiler, condenser, heat transfer system.
ASTM A688 covers seamless and welded Austenitic stainless steel feedwater heater tubes including stainless steel U bending tube for application in tubular feed-water heaters, the tubing sizes covered shall be 5⁄8 in to 1 in. [15.9 to 25.4 mm] inclusive outside diameter, and average or minimum wall thicknesses of 0.028 in. [0.7 mm] and heavier.
A688 & A803 U Bend Stainless Steel Tube specification
Heat treatment shall be applied to the U-bend area plus approximately 6 in. [150 mm] of each leg beyond the tangent point of the U-bend after bending, if specified.
Straight length: max 30000 mm
Leg length: 12000 mm, points of tangency of the bend to the leg end
Bending radius: max 1500 mm
Manufacturing method: cold drawing, cold worked
Straight length equal to 2 x leg length + 3.1416 x R
Heater Tube Standard
ASTM A688 / A688M– Seamless and Welded Austenitic Stainless Steel Feedwater Heater Tubes
ASTM A803 / A803M – Seamless and Welded Ferritic Stainless Steel Feedwater Heater Tubes
Tolerance and testing
OD & Thickness tolerance
A688 & A803 U bend tube tolerance of outside should be accordance with specification A1016/M, bent portion of U tubes for R =2 X D or greater, tolerance shall deviate from the nominal diameter prior to bending by more than 10 %, if less than 2 X D is specified, tolerances could be greater, minimum wall thickness shall not exceed +20 % − 0, average wall thickness are 610 % of the nominal wall thickness, bent area wall tolerance shall not be less than value determined by the equation: 4RT/(4R+D).
testing & inspection
Tensile Strength
Reverse bending test
Flattening test
Flare test
Flange test
Dimensional
Hydrostatic Test
Pneumatic Test
Hardness
Eddy Current test
Intergranular Corrosion (option)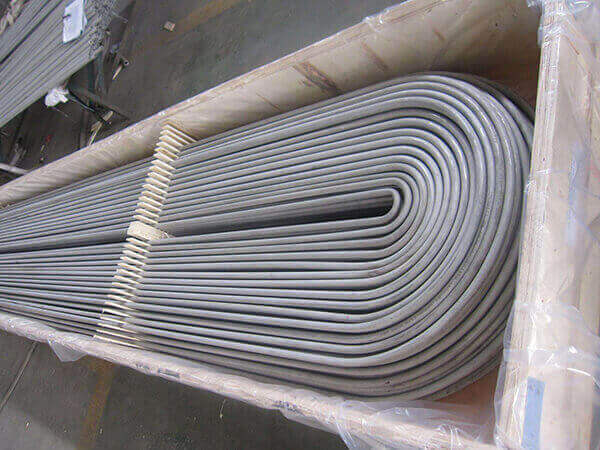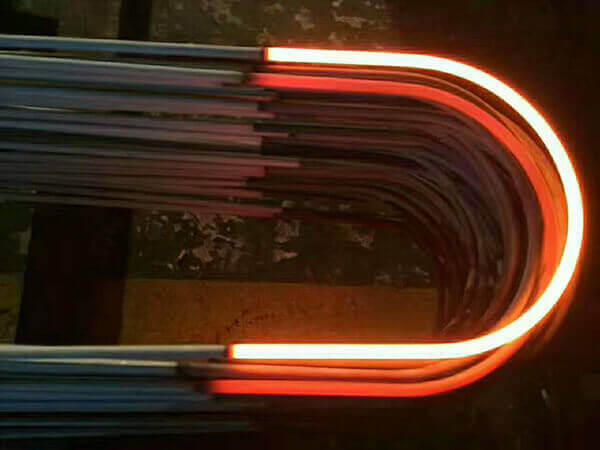 U tube packing
U bend stainless steel tube should be packed in box, each tube should be separated.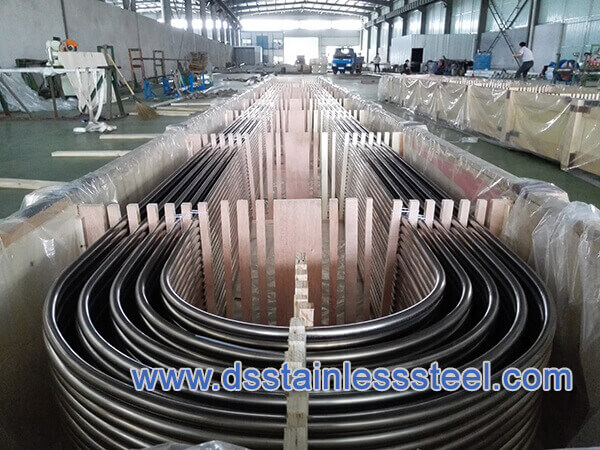 Our case in OD 19 MM X Wall thickness 2 MM of U bend stainless steel tube
| Leg length | Radius (mm) | Bending length | Straight length (mm) | Quantity (pcs) | Weight, (kgs/pc) | Total Weight (kgs) |
| --- | --- | --- | --- | --- | --- | --- |
| 5800 | 35 | 109.956 | 11709.956 | 38 | 9.98 | 379.29 |
| 5800 | 60 | 188.496 | 11788.496 | 38 | 10.05 | 381.83 |
| 5800 | 85 | 267.036 | 11867.036 | 38 | 10.12 | 384.38 |
| 5800 | 110 | 345.576 | 11945.576 | 38 | 10.18 | 386.92 |
| 5800 | 135 | 424.116 | 12024.116 | 36 | 10.25 | 368.97 |
| 5800 | 160 | 502.656 | 12102.656 | 36 | 10.32 | 371.38 |
| 5800 | 185 | 581.196 | 12181.196 | 36 | 10.38 | 373.79 |
| 5800 | 210 | 659.736 | 12259.736 | 36 | 10.45 | 376.20 |
| 5800 | 235 | 738.276 | 12338.276 | 34 | 10.52 | 357.57 |
| 5800 | 260 | 816.816 | 12416.816 | 32 | 10.58 | 338.68 |
| 5800 | 285 | 895.356 | 12495.356 | 32 | 10.65 | 340.83 |
| 5800 | 310 | 973.896 | 12573.896 | 30 | 10.72 | 321.53 |
| 5800 | 335 | 1052.436 | 12652.436 | 28 | 10.78 | 301.97 |
| 5800 | 360 | 1130.976 | 12730.976 | 26 | 10.85 | 282.14 |
| 5800 | 385 | 1209.516 | 12809.516 | 24 | 10.92 | 262.05 |
| 5800 | 410 | 1288.056 | 12888.056 | 18 | 10.99 | 197.74 |
| 5800 | 435 | 1366.596 | 12966.596 | 16 | 11.05 | 176.84 |
| 5800 | 460 | 1445.136 | 13045.136 | 6 | 11.12 | 66.72 |